The Texians under siege at the Alamo held their ground for almost two weeks against the much larger Mexican army.
The shelling stopped on March 5th. That evening, Santa Anna gave orders to play "El Deguello", a traditional Spanish bugle call. "El Deguello" means "slit throat."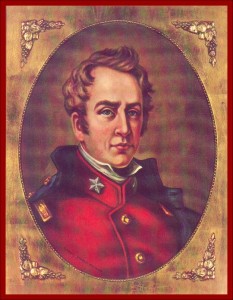 According to tradition, Travis drew a line in the sand on the eve of battle, offering the defenders one last chance to leave. Only one man left.
On March 6, 1836 Santa Anna's men stormed the mission fortress and breached the walls. They had orders to "Give no quarter"–take no captives. They killed every fighting man within the walls–189 souls–but the volunteer defenders of the Alamo did not die in vain. Their sacrifice bought precious time for the Army of Texas to gain strength.
Teaching Tip #1: If your students have been marking the days of the siege on a calendar, today marks the tragic end.
Teaching Tip #2: You can hear two versions of "El Deguello" in these YouTube clips. (Use discretion, please. YouTube is a public website. The suggestions and comments of other viewers may not make for wholesome viewing.)
The tune has Moorish roots. Which version do you think is closer to what was heard that night?
Teaching Tip #3: If you had been offered the choice, would you have stayed to fight? Why or why not?
Field Trip Idea: If you have never visited the Alamo, I encourage you to make plans to go. It's preserved more as a shrine than a mere historical site, and visitors are asked to tour in silence out of respect for those who died there.
(Once again, I'm using a photo from Texian Press of Waco, TX–a great resource!)