The Chisholm Trail and the Goodnight-Loving Trail were two of the biggest routes cowboys used to drive Texas cattle to market.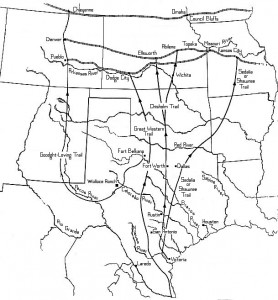 It's interesting to note that Charles Goodnight, co-founder of the Goodnight-Loving Trail, was born just three days after the Texas Declaration of Independence was signed. His birthday was March 5, 1836.
Jesse Chisholm, who blazed the Chisholm trail, died in Oklahoma on March 4, 1868. Chisholm was fluent in fourteen Indian dialects. His uncle, Sam Houston, called on him to act as an interpreter at many important Council meetings with Texas tribal representatives.