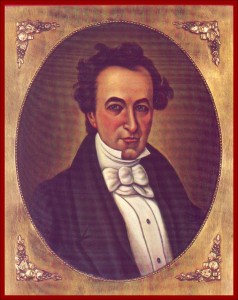 Stephen F. Austin's colony was less than three months old when trouble began.  Mexico had won its war with Spain and was now an independent country. The new government was not sure it wished to honor a Spanish grant made to Austin's father.
In March 1822, Austin reported to the governor in Bexar, but the territorial governor told him he must go to Mexico City, 1200 miles away, to get confirmation from the new Mexican Congress.  Austin's trip was a hard one, and when he arrived the new government was in a general state of confusion.  Austin's trip took him away from Texas for a year, but he returned with his grant was confirmed.  He was an empresario with permission to settle 900 additional families.
Considering the difficulties of his task, his complete responsibility to accomplish the venture, and the far-reaching effect of his success, Stephen F. Austin is considered one of the greatest colonial leaders in American history.  He is remembered as the "Father of Texas" and has an honored place in the hearts of Texans.