In May 1690 Spanish soldiers escorted priests to the banks of San Pedro Creek to begin building Mission San Francisco de los Tejas–an outreach to the Hasinai Caddo.
In terms of measurable results, the mission was a failure. After struggling for a few years, the priests re-established the mission in San Antonio, closer to other mission projects. East Texas was just too remote–too far from support and supplies.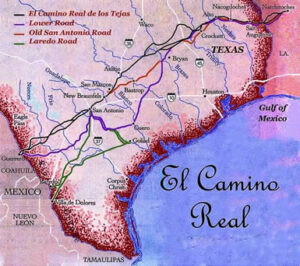 BUT the trail the priests and their escorts blazed, El Camino Real, became an important travel route, visible to this day in east Texas.
Field Trip Idea: Download this brochure that tells about El Camino Real.