The University of Texas tried to interest oil prospectors in 2 million acres of relatively useless land in the Texas panhandle, but for years no one was interested.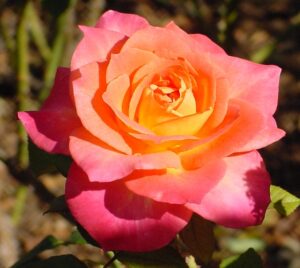 A small partnership leased the land, raised funds, and began drilling. Some Catholic sisters were among those who pooled their savings to invest. They gave the company president a package of dried rose petals blessed in the name of Saint Rita, patron of impossible causes. When the derrick was built, he climbed to the top, sprinkled the petals on the west Texas wind, and named the well "Santa Rita" to honor their request.
Always under-funded and in a desperate race against deadlines, the drilling company struggled to survive.  The site was remote and progress was maddeningly slow—less than five feet a day through 3000 feet of rock.  Finally, after almost 2½ years, the drillers noticed gas bubbles escaping through the water that cooled the drill bits.  They stopped drilling for the day, but early the next morning—May 28, 1923—the well came in, spewing a mist of black oil.
The Santa Rita #1 pumped up to 200 barrels of oil per day, and the ancient Permian Basin became a part of Texas' future.