Have you met Big Tex?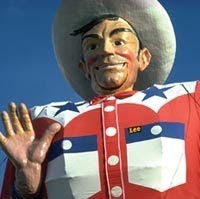 The official greeter of the State Fair of Texas was "born" in Kerens, Texas 14 miles east of Corsicana. He began life as a larger-than-life Santa Clause in 1949. That makes him 62 years old this year.
In 1952 he was sold and transformed into a 52-foot-tall cowboy. See that 10-gallon hat? Big Tex is so big, it's actually a 75-gallon hat!
You know what they say–everything's bigger in Texas! Read more about this Texas-sized icon here.
The State Fair of Texas runs 30 September-23 October this year and is well worth the trip!