Texas Rangers led by Lawrence Sullivan Ross "rescued" Cynthia Ann Parker from the Comanche Indians on December 18, 1860.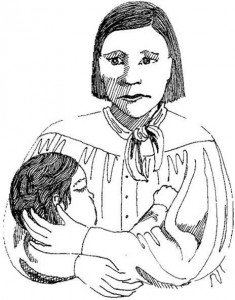 Cynthia Ann was only nine years old when Comanche warriors killed her pioneer family and took her captive in 1836. She endured harsh treatment, but was eventually adopted into the tribe. Over the years she learned the Comanche language and culture, and when she was grown Chief Peta Nocona chose her as his wife. Together they had two sons, Quanah and Pecos, and a little daughter, Topsannah.
On December 18, 1860, while the men were away hunting, Cynthia Ann and Topsannah were "rescued" when soldiers and rangers raided their squaw camp on the Pease River. She was now 34 years old. The soldiers barely recognized her as a white woman—only her blue eyes gave her away.
Ranger Captain Lawrence Sullivan Ross brought them back to Ft. Cooper and contacted her uncle.  Isaac Parker was overjoyed to see his niece, but Cynthia Ann did not want to live again in the white man's world. She missed her husband and sons and worried that they might have been killed in the battle at Pease River. She longed to return to "her people," but her uncle locked her into her room to keep her from running away to rejoin her Native American family.
Three years later, Topsannah fell ill with a fever and died. Cynthia Ann was distraught. She began to waste away and finally died of influenza in 1870.