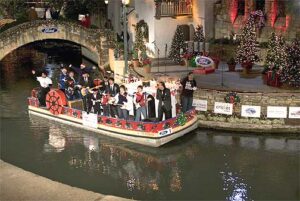 Christmas time is always a good time to schedule a trip to San Antonio!
First stop–Paseo del Rio. The downtown river walk transforms into a holiday festival of lights and sounds during la Fiesta de las Luminarias each Friday, Saturday, and Sunday December 1-18. Boatloads of carolers drift through the twinkling reflection of colored lights draped from centuries-old trees as you stroll, shop, and sample delicious foods from a variety of cultures. Check the River Walk website for coupons and details.
While you're there, why not enjoy the Institute of Texan Cultures? No matter where your family came from or how long ago you arrived in Texas, you'll find a tribute to your cultural contribution at this interactive museum dedicated to telling the stories of Texans.
Of course, a visit to the San Antonio missions is always interesting. Plan your trip to include not only the Alamo, but also Missions San Jose, San Juan, Conception, and San Francisco de la Espada. San Antonio visitor information will help you plan your trip.
And finally, my personal favorite! No trip to San Antonio is as memorable as it could be without a visit to the Guenther House, home of Pioneer Flour Mills. Every item on their breakfast, lunch, and brunch menu has passed the tests of time and taste. While you wait, you can tour the historic home that houses the restaurant, browse their enticing gift shop, or simply enjoy the gardens that overlook the San Antonio River and King William district.