The fourth temperament type we'll meet are the smooth-flowing "phlegmatics".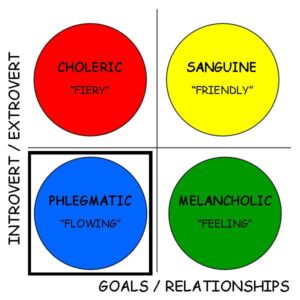 These folks are goal-oriented introverts.
Energized and inspired in a quiet, relaxed, reflective environment
Practical, stable, dependable–they are the "glue" that holds things together
Need to know what the purpose is, how you'd like things done, and when they're due
Crave structure
Want a deadline and will finish early to allow time to check their work
Efficient process people
Strong finishers
You may have noticed that this type of person shares many traits with the fiery, extroverted leader types, but they are MUCH more quiet. They will go out of their way to avoid conflict and do not enjoy leading, though their gifts of organization, attention to detail, and knack for scheduling actually equips them well for leadership. (George Washington is a famous example.) Unflappable, this type of person is sometimes mis-characterized as a "plodder". They tend to progress slowly and deliberately. Don't rush them, or you may witness a melt-down as they try to meet your demands while satisfying their own desire for flawless perfection! Decision-making is sometimes a challenge because they like to make sure they have all the facts and reduce all possible risks before committing, but once they set a course, they will work diligently and steadily and finish dependably.
To teach them effectively, you must:
Let them know the goals and objectives of an assignment
Help them see how skills will be practical and useful to them later in life
Let them know when assignments are due and allow time for them to check their work
Be prepared for them to naturally break large tasks into segments. They do this naturally.
Encourage them that their ideas and skills are valuable so they will learn to speak up in groups.
Nurtured in a godly environment, people with this personality type are gentle, loving, and rock-steady. They live to serve in practical ways and take immense satisfaction in a job well done. Naturally modest, you don't have to worry too much that they will become arrogant, so be sure to let them know when you're pleased.