Continuing to look at the four basic temperaments individually, let's note again that temperament is not the same thing as personality. Temperament refers to the root motivations and social preferences from which personality grows. While we may admire some traits and find other quirks and behaviors undesirable, it's important to remember that temperament is a neutral characteristic–neither good nor bad. It's how we choose to USE our temperament that results in good or bad consequences. This will become clearer as we go along, but our goal as parents and teachers is to help our students capitalize on their strengths and modify their weaknesses.
Today let's take a closer look at the friendly "sanguine" temperament.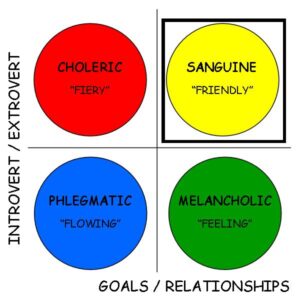 These folks are relationship-oriented extroverts.
Energized and inspired in a stimulating, active, social environment
Energetic, playful, inter-relational
Need to know when the fun starts
Crave variety, surprise, adventure
Great team players, they inspire others
Need to interact and process information by talking
Generate tons of ideas
These kids can be "the life of the party", but the drawback may be that "if it's not fun, they're done". They have tons of energy. It's a challenge to keep them busy, but once they're bored, they lose interest quickly. Optimists by nature, they find joy in small things and share generously. (If you're trying to keep a group focused on the task at hand, this is not always a good thing.) They tend to process externally and orally, so they may ask TONS of questions, chatter with their neighbor, or leave you in the dust when their active minds shoot off in some tangent direction that may not seem related, but don't write them off as "light-weights" by any means. They can generate more ideas than they can ever complete in three lifetimes. They make friends easily, though they may have to develop wisdom and discernment in this area through painful experiences. They have huge hearts and are naturally gifted at building teams and inspiring action. They can "get the ball rolling" for sure…but they may need others on the team to help them finish. (Finishing complex tasks can be a REAL challenge to people of this temperament.)
To teach them effectively, you must:
Keep things interesting, surprising and fun
Give them outlets to work and play with others frequently
Let them concentrate in short, focused bursts interspersed with activity
Let them talk and ask questions
Let them generate ideas, but help them analyze for priority and practicality
Break complex tasks into smaller goals and celebrate the completion of each
Nurtured in a godly environment, people with this personality type are usually known for their optimism, generosity and kind hearts. Their social skills will take them far.