When we think of someone who's creative, our minds might first go to a painter or musician. Perhaps we might broaden that view to include actors and novelists. But creativity takes myriad forms!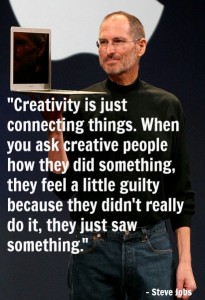 What about the homemaker who creates amazing meals on a budget? Or comes up with storage solutions that keep the household organized?
What about the gardener who invented raised beds to make gardening more enjoyable?
How about architects, builders, and engineers who use their creativity to give us homes, buildings, bridges, roads, etc. that are both functional and beautiful?
How about the mathematicians and computer programmers who devise "dummy-proof" charts and programs that anyone can use to make budgeting and routine processes easier?
Come to think of it, what about teachers who devise innovative ways of making learning meaningful, memorable and fun?
Part of raising up a child "in the way HE should go" is studying to see where his or her creative process begins to shine. This gives us clues to the child's particular giftings.
Next week we'll take a look at 7 areas of "genius"–seven gifted areas and how to bring them forth.