The best way I know how to explain this gift is by giving you two stories as examples.
One day as we were leaving the house, my 7-yr-old son advised me to bring an umbrella. Puzzled, I said, "It's not going to rain. There's not a cloud in the sky." To which he answered, "There were clouds yesterday–those little wooly ones that look like fish scales. When you see those, it usually rains the next day." And it did. I was glad I went back for the umbrella!
While driving I pointed out something I thought would be of interest to the same kiddo. "Oh, look! An armadillo!" He replies (without looking up from his book for more than a second), "Yes. A nine-banded armadillo. Did you know they always have four babies? Identical quadruplets–all girls or all boys. And if there's a bad drought the mama armadillo can stay pregnant as long as she needs to until it rains."
How did he know these things?!?
People with environmental intelligence have an intuitive connection to nature and a natural interest in all things natural. Like the mathematicians, they see patterns and enjoy classifying data. They see God's hand in the world around them, and it fascinates them. They also have a "way" with animals. They're "horse whisperers"…and dog whisperers, and cat whisperers, and lizard whisperers. We ran a veritable zoo for several years, and our menagerie always wagged, purred, or chirped when they were with this particular child because he sorta "spoke their language"–our own Dr. Doolittle. 😉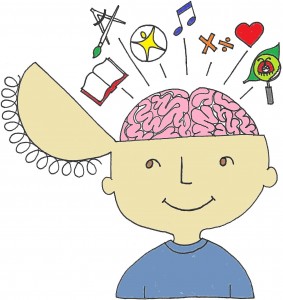 If you have an environmental "genius" at your house, pets sort of come with the package. You will also need to accommodate their inevitable collections of nature specimens. In addition, consider these suggestions as skill-builders:
Provide them with illustrated nature books and let them absorb data and trivia to their heart's content.
Consider subscriptions to nature magazines such as National Geographic Jr. or Ranger Rick.
Plan field trips to a natural history museum. Many host visiting exhibits, so you can go often for shorter stints.
Help them set up a weather station and/or build their own weather tracking equipment. Groups such as the National Oceanic and Atmospheric Association (NOAA) may fascinate them.
As often as possible, take advantage of opportunities to camp, hike, hunt, spelunk, snorkel, scuba…anything to get them outdoors and into nature!
SUMMING UP: I hope you've enjoyed this 2-month overview and found suggestions you can use with your own children.
Finding the right key is not always easy, but the Bible tells us that if any man lacks wisdom, he should ask God, who gives to all men freely and without reproach. (James 1:5) Keep knocking, and the doors WILL open!