Let me say right up front that this recipe came from Bobby Joe Wood, a real for-sure chuckwagon cook who kept a number of kids (and me) fascinated at a recent history fair.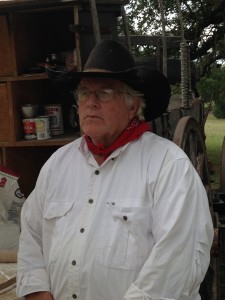 <– This guy right here…
was making these biscuits right here…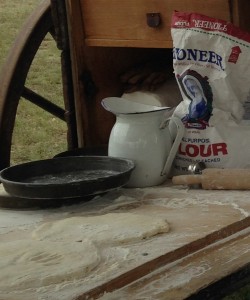 …and they looked mighty tasty!
So understand, please, that this is not my recipe, and I make no claim to its fame. It's Bobby Joe's, and he says, "They made these twice a day, every day!"
I'll bet they did! 🙂
If you'd like to try them, here's the recipe Bobby Joe gave me:
4 Cups of Pioneer Flour
2 Tablespoons of Baking powder
1 Teaspoon of salt
1/3 cup of Lard
1 cup of Evaporated Milk (because they couldn't carry fresh milk in a chuckwagon, right?)
1 cup of water
Mix dry ingredients together. Cut in lard. Add milk and water. Stir.
When mixed dump on a flour covered surface in a big ball. Pat out, handling as little as possible. Roll out to about 3/4 inch. Cut and crowd in about 10 inch pan.
Cook in preheated over for about 12 minutes or until tops are brown as desired. Rub butter on top as you take out of over. Serve hot or cold.
Mmmm!!!
If you're really brave, try these in a dutch oven over an autumn campfire with some coals shoveled on top so they bake evenly.
And if you have a group that could use the services of a really good chuckwagon cook, Bobby Joe Wood is available for catering.