Though the Texas Heritage Living History Day is over for this year, it's a longstanding annual event that would be well worth your time next year!
Here's a sampling of the sights and sounds.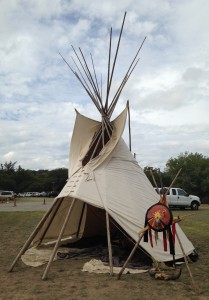 Even Comanche warriors eat lunch, I guess. The teepee was empty when I stopped by for a picture, but later on I saw a large gathering of kiddos talking with the costumed interpreter. He sang for them, adding a unique flavor to the languages and musical styles on display.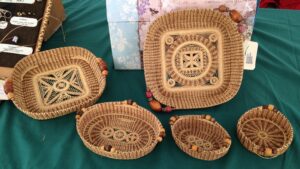 Aren't these lovely? They're made from pine needles, painstakingly woven into intricate patterns. Another costumed historical interpreter was demonstrating the method.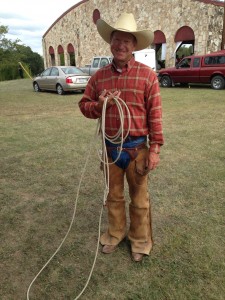 This "feller" was doing rope tricks, lassoing and tying up students as a grande finale. Definitely a hit! His name's Kevin Fitzpatrick, he's a real Texas cowboy out of Bandera, and he was named 2008 World Champion Trick Roper at the National Cowboy Symposium. Check out his website, and you can see a video of Kevin in action.
And then there were these guys…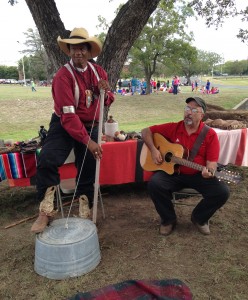 They drew quite a crowd of youngsters clamoring for a turn on the washtub bass and giggling over the Bellybutton song. Everybody got in on the music! Clifton Fifer also does historical interpretations–Buffalo soldier, Cowboy poet, and Indian scout–you name it.
There are so many folks interested in such a wide variety of Texas topics, and they're very generous in sharing their knowledge with anyone interested!