I recently discovered the website of the Texas General Land Office, and boy-howdy! is it a veritable adventure-in-the-making for anyone who wants to Discover Texas.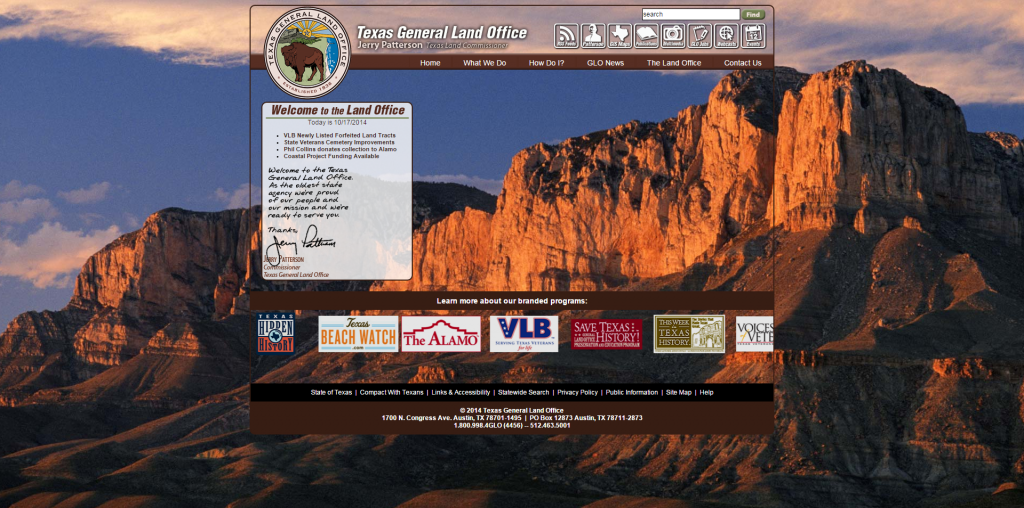 So who are they and what do they do?
The Texas General Land Office was established by the very first Congress of the Republic of Texas on 22 December 1836 to "superintend, execute, and perform all acts touching or respecting the public lands of Texas." For starters, there were some 4200 Spanish land grants that had been converted to Mexican land grants and were now to be honored, translated and archived by the new Republic of Texas as well. Imagine keeping track of 26,280,000 acres! …and the republic was surveying and issuing new grants every day.
Texas is the only public-land state with complete control over its public lands and over the proceeds resulting from the administration and sale of lands. (If you think back to a kerfuffle over a Nevada rancher's use of public lands earlier this year, you'll quickly see how this could become important.) The General Land Office manages all state lands and mineral-right properties, including submerged land in the continental shelf more than 10 miles into the Gulf of Mexico. And the money they collect from leases, trades, and sales? Most of it goes into the Permanent School Fund–over $6 BILLION since 1854 that helps finance public school education and keeps college tuition costs low for in-state residents.
The General Land Office is headed by the Texas Land Commissioner, who is an elected official. Elections are tomorrow. Check and see who is running this year…and REMEMBER TO VOTE TOMORROW!