December 10, 1838 was supposed to be the day Mirabeau Buonaparte Lamar was inaugurated as the second president of the Republic of Texas…and it WAS…sorta…only Lamar never showed up.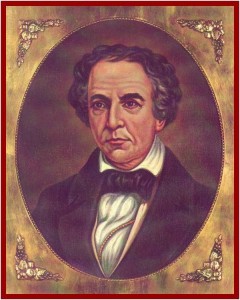 (Photo used with permission of Texian Press)
The proceedings went rather unusually. First Lamar's predecessor, Sam Houston, appeared in colonial costume complete with powdered wig to give a Farewell Address that went on for three hours. Then Lamar's secretary, Algernon P. Thompson, made a brief appearance to report that the new president was "indisposed". He read some inaugural remarks Lamar had written, and that was that.
In his speech, Lamar declared that the focus of his administration would be promoting the wealth, talent and enterprise of the country and laying the foundations of higher institutions for moral and mental culture. True to his word, he proposed that Congress set aside public lands for the establishment of public schools and two universities. Even though it was several decades before the school system was actually established, Lamar is credited as the "Father of Texas Education."