Another Texas General, Laurence Sullivan Ross, assumed command on December 16, 1863 of a brigade formed from the 3rd, 6th, 9th and 27th Texas Cavalry regiments to become a unit known as Ross's Brigade.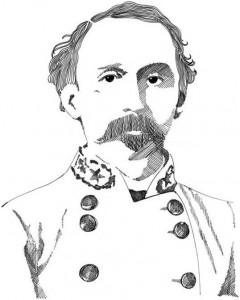 Lawrence Sullivan "Sul" Ross
Sul Ross wasn't born in Texas. He was born in Iowa, but he "got here as quick as he could." His father, Shapley Prince Ross, moved the family to Texas when Sully was a small child. He grew up wanting to become an Indian fighter like his father and rode with the Texas Rangers in campaigns against the Comanche, including one raid that resulted in the recapture of Cynthia Ann Parker.
When the Civil War began, Ross joined Confederate forces and rose to command the 6th Texas Cavalry, rising to the rank of general soon after taking command of Ross's Brigade. His men fought bravely under his leadership, though Ross was on furlough in Texas when they surrendered at Jackson, Mississippi in May, 1865.
After the Civil War, Sul Ross served as a sheriff in McLennan County, as state senator and as governor of Texas from 1886 to 1891. He served as president of Texas A&M University until his death. Sul Ross University in Alpine, Texas is named in his honor.