"How do I love thee? Let me count the ways…"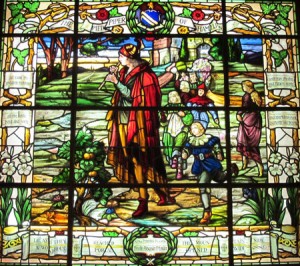 (Robert Browning wrote a famous version of The Pied Piper of Hamelin)
Baylor's Armstrong Browning Library houses the world's largest collection of the works and artifacts of poets Robert and Elizabeth Barrett Browning–over 2000 personal letters and other manuscripts as well as all the first editions of both poets and most of the publications written that deal with them. The museum opened on this day in 1951, but the story of the man behind the museum is almost as interesting as the museum itself.
Andrew Joseph Armstrong was a study in perseverance. Born in 1873, he was 29 before he was able to complete his bachelor's degree. Hoping to raise money for graduate school, he accepted a teaching post at East Texas Baptist Institute in Rusk, Texas, but went home to Kentucky when the college was unable to pay him. He spent 3 years teaching at Wesleyan University in Illinois. It was here that he first developed his deep interest in the Brownings' poetry. After receiving his Ph.D. in 1908, he returned to Texas to teach in the English department at Baylor University…but at the end of that year, he returned again to Kentucky. There he stayed for 3 more years, teaching at Georgetown College. It's safe to say, though, that Texas was never far from his mind. In January 1911 he married a Waco girl, Mary Maxwell, whom he'd met while teaching at Rusk 8 years before, and in September 1912 they returned to Waco where Dr. Armstrong headed the Baylor English department. In 1918 he donated his Browning collection to Baylor University, but he spent the rest of his life developing it, raising funds for the project by bringing lecturers, musicians, scholars and poets such as Robert Frost and Carl Sandburg to Waco. A popular professor, Armstrong headed the English department for more than 40 years and left an amazing legacy.
Christmas is a wonderful time to visit the Armstrong Browning Library. The Baylor Chamber Singers and Bella Voce host their traditional performance this year on Sunday, Dec. 7 at 3:00 pm. and on Monday and Tuesday, Dec. 8-9 at 7:30 pm. Tickets are free, but you must arrange them in advance through the Baylor School of Music.