I don't often "take a pass", but today I am scheduled to co-host an online book tour event at Christian Indie Books.
Fortunately, actress Mary Martin was born on this day–December 1, 1913–in Weatherford, Texas. It was so considerate of her to provide a blog post for today that will be short, sweet, and interesting!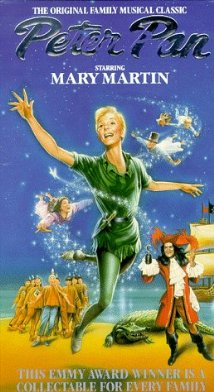 Mary was a spunky little girl, singing from the town bandstand when she was just a wee thing. Friends and family encouraged her love of the stage, and she started voice lessons at age 12. She must have shown great promise, because she became a great inspiration to no less than Rogers and Hammerstein, who cast her in leading roles in South Pacific and The Sound of Music. The role I'll always remember her for, however, was that of Peter Pan. (This is the first movie I remember seeing at a theater. I was 3, and promptly put Tinkerbelle's flying formula to the test by jumping off a park bench. I had faith and trust, but alas, I lacked pixie dust and so acquired three stitches to the chin.)
And did you know…Mary Martin was the mother of Larry Hagman, who later starred as JR Ewing in the epic Texas television drama, Dallas.
Mary passed away in 1990 and is buried in Weatherford, Texas where her journey began.