If you're looking for a field trip to go along with your study of Texas geography, one of the most centrally-located possibilities in Inner Space Cavern in Georgetown, Texas.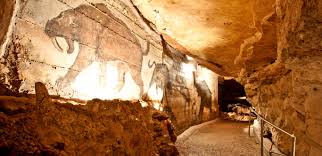 Inner Space Cavern is also one of Texas' "newest" caves–at least in terms of discovery. Drillers taking core samples for the Texas Highway Department discovered it quite by accident in 1963 (during the construction of I-35) when one of their drill bits took a sudden 26-foot drop! Because it was so completely inaccessible in more modern times, explorers found the cavern remarkably well-preserved.
Their website offers a number of very helpful features for educators.
One extra bonus for Christian homeschoolers, the owners of the cave (last time I visited) are believers who include some tastefully thought-provoking elements into their presentation.