The Waco Mammoth Site is so unique it is under consideration as a national monument in the National Park Service.
Students will love hearing the story of two men who set out one spring day in 1978 to hunt for arrowheads and found, instead, a large fossilized bone. Over the next 20 years teams of scientists excavated the remains of 22 Columbian mammoths and found the bones of camels and saber-toothed cats as well. The theory is that the animals were trapped by a flash flood, since the bones of a juvenile mammoth were found resting across the tusks of an adult in the herd, as if it died trying to life the baby above the waters.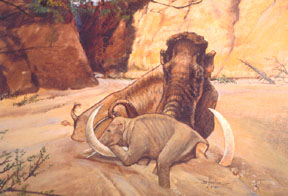 The site opened to the public in December 2009.