One of the two largest ranches in the state, the XIT Ranch in the Texas Panhandle is also larger than the state of Rhode Island.
The XIT Museum in Dalhart features extensive collections related to the ranch and to ranching history. In addition, they sponsor what they call the "XIT Museum Online" that is a pretty neat feature, AND they sponsor "Outreach Trunks"–traveling exhibits that educators can arrange to check out for hands-on learning.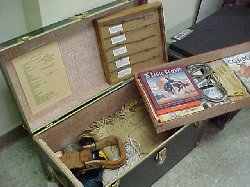 The ranch has a fascinating history, so this is a museum you'll definitely want to put on your list if you're in the area.