True confession time. This was another field trip I sorta got dragged onto…and then the folks I was with had to drag me out! The Ocean Star Offshore Drilling Rig Museum is more interesting than I ever imagined.
A bit of explanation may help you understand why.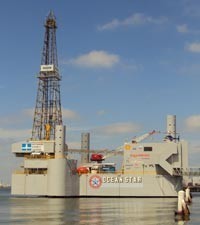 A school classmate, when he graduated, did not go to college to study petroleum engineering as I thought he would. He didn't get a job locally either. Instead, he signed on to work on a drilling rig for a year. For weeks on end, he worked in the middle of the ocean, and when he wasn't working there was nowhere else to go. I had trouble imagining what it would be like to live and work in such a place, but they paid him SCADS of money–at least way more than any of the rest of us were making lifeguarding at pools or flipping burgers–and after a time he'd made enough for college AND he had experience in his field of interest. That impressed me, so it was really interesting to learn what that experience might have been like and why they pay these guys "the big bucks".
Then again, I've always been fascinated by stories of Atlantis. The idea of living in the midst of the ocean on a rig that provides a protective underwater habitat for all manner of creatures was also fascinating.