For ten years, from the signing of the Texas Declaration of Independence in 1836 until its annexation as the 28th sovereign member of the United States in 1846, the Republic of Texas stood proudly (if somewhat precariously) as a separate and unique nation. The Star of the Republic Museum was created by the Texas Legislature in 1969 to collect and preserve the culture of the Texas Republic and to interpret the history, cultures, diversity and values of early Texans.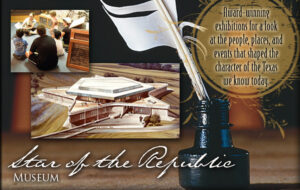 Under the administration of Blinn College, they do that well. VERY well! So well, in fact, that they are one of only about 800 museums nationwide (and the first in Texas) to be accredited by the American Alliance of Museums for excellence.
Having been there, I can certainly attest that they deserve the distinction!
The museum is open 7 days a week (except for Thanksgiving Day and Christmas week) from 10:00-5:00. They also publish a quarterly newsletter, Notes, available free of charge. Just sign up on their website, where you'll find archived back copies as well.