Within easy driving distance of Houston, Austin, and Bryan/College Station lies the site of Washington-on-the-Brazos, which was the first capital of the Republic of Texas. Washington-on-the-Brazos is known as "the Birthplace of Texas" because here 59 representatives wrote and signed Texas' Declaration of Independence from Santa Anna's lawless Mexican government, declaring Texas to be an independent republic.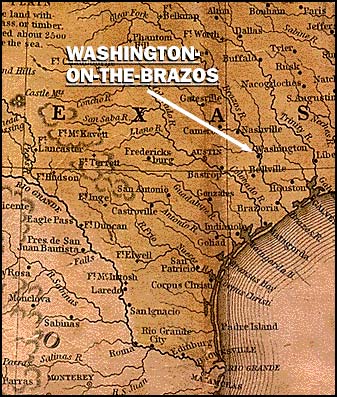 (Map from www.pbs.org/weta/thewest)
Independence Hall still stands as part of the Washington-on-the-Brazos State Historic Site, and the Star of the Republic Museum next door is worthy of its own post. But the excitement doesn't end there. Nearby you'll find the Barrington Living History Farm, and about 20 miles northwest you can visit the Fanthorp Inn State Historic Site, a wonderfully preserved example of a 19th century stagecoach inn and tavern that saw a lot of history in its days from 1834-1867.
YOU can see a lot of history, too. If you plan a trip to Washington-on-the-Brazos, my suggestions is to go on the second Saturday of the month, February through July, September, or October. That way you can catch the Stagecoach Days or Texian Days events at the Fanthorp Inn as well as touring the Birthplace of Texas. Until you can go in person, do visit the website where you'll find some very good interactive educational tools and also a phone app you can download to enhance your trip.