We're going to the FEAST 25th Annual Homeschool Convention in San Antonio! Are you?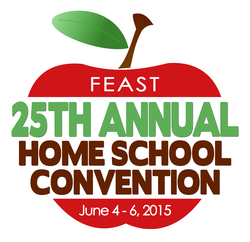 I'm thrilled to be speaking at 3 workshops this year:
How to Make Learning Memorable and Fun
Studies show that we remember only 10-20% of what we read in books or hear in lectures, but when learning is ACTIVE, retention jumps to 70-90%! Learn specific ways you can launch your            students to a lifetime adventure through discovery learning.
How to Raise a HeroGod, the Master Storyteller, is crafting every chapter of HIStory to reveal His ultimate message. Learn to teach history from a Christian perspective to empower your children as heroes who serve the purpose of God in their own generation.
How to Teach the Way Your Child LearnsIf the doorways of understanding aren't opening, maybe we're using the wrong key. Discover three learning styles, four temperaments, five senses, six learning levels, and seven geniuses that can help you unlock your child's potential.
There's still time to register, and if you look on the FEAST website, you'll see that we've put together a field trip itinerary with a self-guided information podcast to help you make the most of your visit! 🙂