Did you know that 47 Irish immigrants from Houston defeated 5000 Union troops who tried to invade Texas?
Or that the final battle of the Civil War took place in Texas AFTER President Lincoln was assassinated?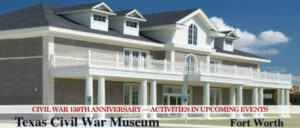 The Texas Civil War Museum in Fort Worth bills itself as "the largest Civil War Museum west of the Mississippi River" and features a commissioned movie, Our Homes Our Rights – Texas in the Civil War. You'll also find three galleries: the Civil War Collection, Victorian Dress Collection, and the UDC Texas Confederate Collection. Be sure to visit their website before you go to take advantage of the education section with worksheets and other teaching tips.
When you plan your trip, be aware that the museum is closed Sundays and Mondays, but is open Tuesday-Saturday from 10 am to 5 pm.