Let's talk a bit about the survivors of the Alamo–the actual survivors as well as those depicted in the History Channel mini-series, Texas Rising.
You can find a very nice, detailed list at this link, here, and also here. In addition, many of the survivors were interviewed or wrote memoirs of their recollections of the Alamo. You can read some of their first-person accounts here. Accurate or not, all of these accounts give us insight into what happened and/or the perceptions of the day.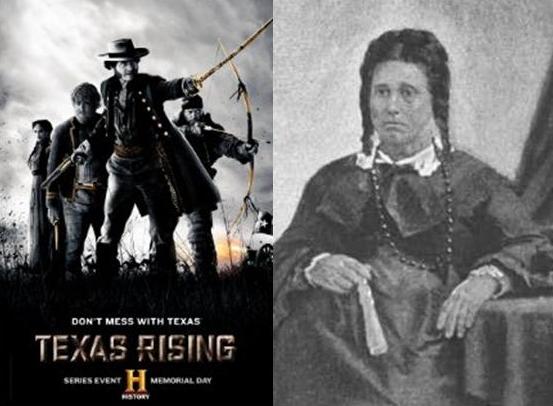 To summarize, there were about 17-20 men at the Alamo during the siege who were not there during the final assault. Among these were Juan Seguin (featured in the mini-series, and we'll talk more about him later) who left with two orderlies to rally reinforcements and another two men who left to seek reinforcements or supplies. Another 10 men, many of them teenagers, were sent out as couriers carrying news to Fannin, Houston, and others. I suppose it's possible that Travis sent the younger men out because they might be lighter and faster, but my personal feeling is that he suspected the assault would not end well and wished to get the younger men safely away with honor so that they could live out their lives.
One man who left with questionable honor was Louis (or Lewis) Rose, a Frenchman, who departed when Col. Travis drew his famous line in the sand. In those days a vow of service, even one made voluntarily, was taken very seriously and loyalty was a mark of honor and personal integrity. Though some faulted Rose for reneging on his vow as a volunteer, I believe Travis intention was to genuinely release any who were reconsidering.
We also know with fair accuracy the identities of those who survived the assault–mostly non-combatants–who were allowed by Santa Anna to leave, though some of the information understandably conflicts or is incomplete.  Here's the basic rundown:
Susanna Dickinson, widow of Captain Almeron Dickenson, and her 15-month-old daughter Angelina. After the battle, Santa Anna offered to adopt Angelina, but Susanna refused. Santa Anna then sent them to Gonzales with two dollars and a pony to deliver a message to Sam Houston and to Texians in general about the dangers of opposing him. They were accompanied by Ben, a black man who served the Mexican Army as Santa Anna's personal cook. 

Note, please, that it was Susanna Dickinson who carried the message, NOT Emily West.

(More on Emily in the next post.)
"Joe" (last name unrecorded) was Col. Travis' slave. He joined Susanna Dickinson, Angelina, and Ben on the road to Gonzales. A party led by Deaf Smith found them on the road to Gonzales. Joe appears to have acted as spokesman, as there is indication that Susanna was so traumatized as to be mentally unsound. Texas' independence was not Joe's–not immediately, anyway. He was briefly "owned" by another master, but escaped sometime in 1837 and presumably died a free man sometime after 1875.

Note that ONLY Joe, Susanna, Angelina and Ben were in this party sent to Gonzales, NOT the entire straggling collection of survivors depicted in Texas Rising.

"Bettie", a black cook for the garrison.
"Charlie", a black slave who may have worked in the kitchen.
Gertrudis Navarro (15), adopted sister of Ursula Bowie.
Juanna Navarro Alsbury (28), and her 18-month-old son Alijo Perez. Alijo, who died in 1918, was the last survivor of the Alamo.
Concepcion Loyosa, her son Juan, and daughter/sister Juana Melton.
Trinidad Saucedo
Petra Gonzales
Brigido Guerrero, who deserted the Mexican Army in 1832 to join the Texians and somehow convinced Santa Anna that he was a prisoner of war.
Ana Esparza, widow of Gregorio Esparza (34), with their four children: Maria Castro (10), Enrique (8), Manuel (6), and Francisco (3).

At 10, Maria would have been too old to be the child, later orphaned, depicted in Texas Rising.

Victoriana de Salina and her three daughters.

This is the only possible candidate for the Hispanic mother and daughter (singular) depicted in Texas Rising, though I find few historical references to them and no indication that Victoriana was killed while escaping.
Which leaves us with Henry Warnell, who was definitely among the volunteers at the Alamo but did not die there. Warnell died at Port LaVaca in June of 1836–three months after the fall of the Alamo. It is possible that Warnell was among the couriers sent out by Travis on February 28, but those records are not clear. There is some speculation that he might have remained in the Alamo and somehow escaped on the day of slaughter. "Joe" mentions a man named "Warner" who survived, was taken to Santa Anna, and executed, yet there was no one named Warner among the known combatants. Could Joe have confused "Warner" for "Warnell"? Susanna Dickinson also told of a single survivor who unsuccessfully begged for mercy. Warnell? Or another?
Could this be the tortured soul called "Lorca" in Texas Rising–the man who escaped the pit of the dead just before the pyres were lit? The real Henry Warnell, though, was only 24–a great deal younger than "Lorca". That aside, there is at least enough documentation, at this point, for me to take a "wait and see" attitude and suspend disbelief in favor of artistic license. So on the issue of Lorca/Henry Warnell, my inclination is to declare a draw, though the depiction of wagonloads of women and children sent off together is pure fabrication, and the depiction of Emily West rather than Susannah Dickenson in a key role as messenger to Sam Houston is a major departure from the true story of Texas.
Many of the survivors were interviewed or wrote memoirs of their experiences at the Alamo. You can read some of their first-person accounts here.