The Alamo is one of the top vacation destinations in the United States. For Texans, it's practically in our back yard. 🙂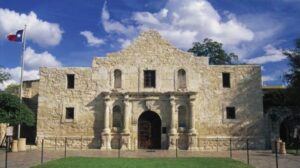 Here in 1836 approximately 189 Texians defended the mission for 13 days against 1800 trained Mexican soldiers under General Santa Anna. Though the siege ended in slaughter for those inside the mission, they had demonstrated to the Mexican dictator that Texians would not stand placidly by while their Constitution was ignored nor go down without a fight. Their sacrifice galvanized the sympathy of other volunteers under the command of Sam Houston, who vanquished Santa Anna six weeks later in a surprise attack lasting only 18 minutes at the Battle of San Jacinto.
The Alamo, which is considered a shrine, is open daily from 9:00-5:30. The basic tour is free, though like most places they are grateful for donations to use for building preservation. If you're especially interested in this episode of Texas history, there are several special tours, including a new 1-hour Battlefield Tour that takes you around the battlefield area, showing angles of attack and where the fighting took place. This tour is best for adults and students over 13, though they can accommodate younger students with a burning interest. (Please be honest, as there's a good deal of walking and the information is intense.) Price for guided tours is $15. You can book in advance on the website (www.thealamo.org). Click "Plan a Visit", then "Book a Tour". Easy!