Texans might have a reputation for being proud, but there's just so much to be proud OF! The Bob Bullock Story of Texas Museum, located 6 blocks north of the Capitol, tells the whole grand story of our history in a wonderfully interactive way. I can't recommend it highly enough!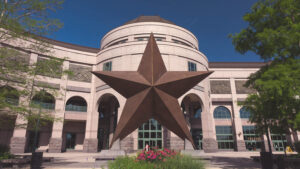 Entrance is a bit pricey. Adult tickets for the museum are $12, Seniors & Military get in for $10, and Youth 4-17 for $8.
Normally I'd still say the experience is well worth the price, but this year the 1st floor (which happens to be my favorite) is closed for construction. My suggestion? Plan to see those wonderful new exhibits with a group of 20 or more–maybe with your co-op group or friends from your local support group–and get the group discount.
But don't write a trip to the Bob Bullock off entirely. The Story of Texas Museum also features an IMAX theater and the Texas Spirit Theater where a wonderful film called Shipwrecked is now playing in 4D. Through the eyes of a 17th century boy, you can experience what it might have been like to survive the shipwreck of La Belle, which carried the French explorer LaSalle as France attempted to colonize Texas. Tickets are $7 for adults, $6 for seniors, military, college students with ID, and youth 17 and under. You can buy them in advance to the showing of your choice at the Story of Texas website (www.thestoryoftexas.com /visit/calendar/shipwrecked).
Hurry! This movie is only showing through June 15!