One of the most fascinating stories of San Jacinto concerns the capture of General Santa Anna. We're not sure where he was during the battle. In his memoirs, he claims to have been napping under an oak tree (as depicted in Texas Rising). Bollaert's journal, which may record the story of Emily West as told to Isaac Moreland who told it to Sam Houston who told it to Bollaert, places Santa Anna in his tent. Either way, he "got caught with his pants down"–perhaps literally. Could this explain why, when he was found, he was dressed as either a Mexican private or as a common peasant? (…or perhaps both. It may be that some of the low-ranking foot soldiers did not have official uniforms.) Did he scramble for the only clothes he could find? Or did he take the clothes from someone he encountered as he attempted to escape over Vince's Bayou?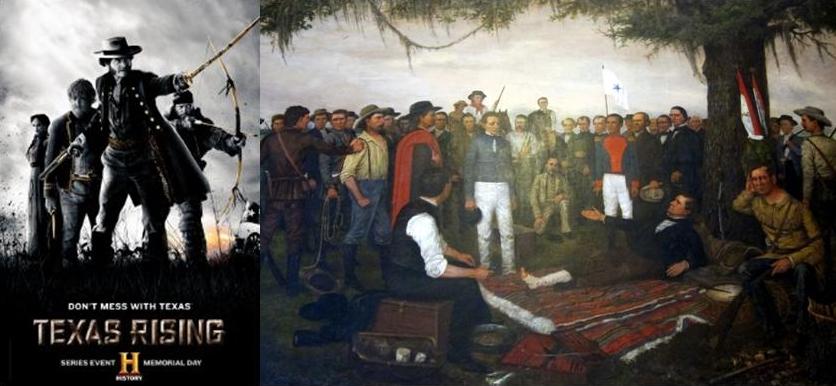 The stories vary a bit, as stories do, but I love the rather detailed account given by Joel Walter Robison who just happens to be the ancestor of a friend of mine. You'll want to read it all, but the short version is that Robison and five others who were rounding up prisoners encountered a man out on the prairie "dressed in citizen's clothing, a blue cottonade frock coat and pantaloons." After some discussion as to whether their lame captive ought to just be killed, Robison took pity on the man and allowed him to mount up behind him. Imagine their surprise when they rode into camp and the Mexican soldiers began to exclaim, "El Presidente!" before they ever reached Houston. Unfortunately, this part of the story was completely goofed up in Texas Rising. (And for the record, there are no caves anywhere close to San Jacinto. That whole area is basically a marsh, but I've covered the audacious geography issues elsewhere.)
Another story I like quite a bit concerns the details of Santa Anna's surrender. Even in defeat the Mexican general and dictator was his narcissistic self. Once he had been recognized and taken to General Houston, he announced pompously, "I am General Antonio Lopez de Santa Anna, and a prisoner of war at your disposition." Houston was in a great deal of pain due to his shattered ankle and in no mood to extend courtesies. He sent for Moses Austin Bryan and Lorenzo de Zavala (Jr.) to act as interpreters as the excited Texas volunteers began to press in. Santa Anna may have begun to feel anxious at this point and said, "You can afford to be generous. You have captured the Napoleon of the West!" Unimpressed, Houston countered, "What claim have you to mercy when you showed none at the Alamo or at Goliad?" Kudos to Texas Rising for getting this part essentially right!
Another thing the mini-series got right? The Texian volunteers recovered $12,000 in silver among the booty from the Mexican camp.
I am eager to see if the mini-series will allude at all to the two-hour negotiations that followed with Bryan, de Zavala, and Mexican Col. Juan Almonte (who had been educated in the United States) acting as interpreters. Santa Anna agreed to order all Mexican troops to evacuate Texas. The official treaties would be signed later at Velasco, but on that day Col. Almonte presented the sword of surrender, and Houston sent 23-yr-old Sergeant Major Joel Crain to receive it and to carry dispatches concerning the surrender to government authorities.
An interesting footnote: Apparently Santa Anna was not the only general in disguise that day. Sam Houston wore the cap of Sergeant Major Crain and may, at some point, have ridden his horse during the battle in an attempt to make himself less a target. Nice idea, though it appears not to have worked very well.
Another interesting footnote: Like other Texas Revolutionary veterans, Joel Crain was granted 640 acres of land. He married the next year, raised a family of ten children, and is buried at the Harris Creek Cemetery just east of McGregor, Texas. I know this because I grew up very near there. 🙂
It's hard to adequately emphasize the impact of the victory at San Jacinto. Most historians list the Battle of San Jacinto among the top ten most influential battles ever. Texas is the 2nd largest state in the United States, but in 1836 the land Mexico called "Texas" encompassed far more territory than the shape we recognize on modern maps. The Texas victory set the stage enabling the United States to annex all or part of the states we now call Texas, New Mexico, Arizona, Nevada, California, Utah, Colorado, Wyoming, Kansas, and Oklahoma–adding almost 1 million square miles and constituting 1/3 of the present land area of the United States!
That was a lot to lose in 18 minutes.