Leslie Greif, co-creator of the History channel mini-series Texas Rising, was quoted in the May 2015 issue of Men's Journal saying, "Our goal is to entertain you. We're not out to tell a history lesson. 'Texas Rising' is a great Western Saga that parallels people's [strive] for liberation and overcoming conflict with a backdrop of Texas history."
He has succeeded in avoiding any semblance of a history lesson. Indeed, Texas Rising did not so much parallel the true history of Texas as run alongside on a completely alternate track–one that took many far-ranging detours resulting in a fantastical fiction of alternate reality more fit for the Sci-Fi channel. How is it possible to honor a "great Western Saga" about people striving for liberty and overcoming conflict by NOT telling their story? How is the story's "backdrop" Texas history if it resembles neither Texas nor history?
As many reviewers have noted, Texans have been more outraged than entertained. In short, we are not amused.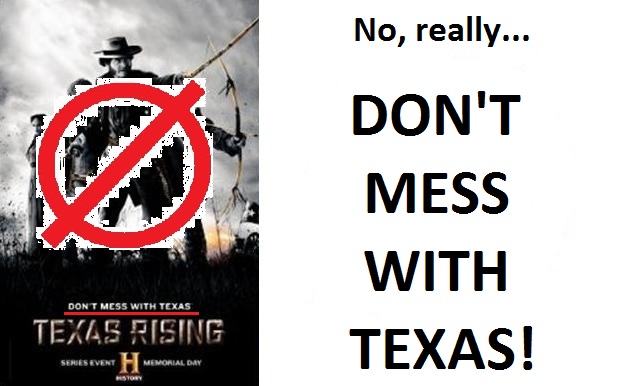 I'll list just a few of the many untruths presented in the final episode:
Portilla had no hideout in Texas after San Jacinto.
Emily West was almost certainly rescued after San Jacinto, probably by Isaac Moreland who helped her make application for the restoration of her passport and free papers so that she could return to Connecticut. If she ever spent time in New Orleans, it was to change ships. She was not a prostitute and there is no evidence at all that she knew Sam Houston before San Jacinto or that she met him afterwards, as he seems to have learned of her existence from Moreland in 1842.
The song "Yellow Rose of Texas" does not appear until 1852, and any connection to Emily West is highly improbable.
In naming "Lorca" as Tom Mitchell, the

Texas Rising

script writers eliminated the only possibility of his being a real Alamo survivor (and presenting him as Henry Warnell was always a long shot).
Deaf Smith did not die of his tuberculosis until November 30, 1837. Sam Houston was not at his funeral (though he did write a moving tribute to him later).
Deaf Smith was NOT "the first Texas Ranger." Stephen F. Austin established an unofficial team of "rangers" in 1823, and Texas lawmakers officially established the Texas Rangers on November 24, 1835. Opinions differ, but the "first" Ranger might be Robert McAlpin ("Three-legged Willie") Williamson. Smith resigned his commission in the Texas Army sometime after San Jacinto and was commanding Ranger company by February 1837.
The Lone Star flag was not introduced until 1838, not adopted until 1839, so definitely not flying over the Alamo in 1836. The façade of the Alamo is not ornate and probably never was.
Perhaps the burning question is, "Why should we care?"
For me, there are three reasons:
Whether they lived or died, the heroes of Texas were real human beings. They paid a high price for liberty, and their sacrifice deserves to be remembered and honored.
Though real people certainly have foibles and failings, we hope to be remembered for who we really were and what we really did. I would not be very happy if someone made up stories that falsely cast my ancestors in a bad light. I find the depiction of Emily West, for example, especially troubling because it dishonors a real woman who endured much hardship but did nothing to deserve the allegations cast first by a troop of sensational journalists and then by

Texas Rising.

The example of Emily West shows how one falsehood, told for a few laughs and personal gain, can be taken as God's honest truth within a generation of those who know no better. It has been said that wisdom is the ability to recognize a mistake before we make it the second time. If we twist history, covering over the facts and inventing false data, we miss the opportunity to learn from those who have gone before. Whole generations have grown up believing completely ridiculous fables told to them by people with hidden agendas, and we see the price of ignorance exploited every day by corrupt politicians and charlatans of every stripe. Tell people the truth, and let them draw their own conclusions!
For those of us who believe in God, history is HIS story–God working out His purposes in the affairs of man. Change the story and you distort the intended meaning.
As Texas Rising's mangling of history sputtered to a meaningless end, I experienced a sinking feeling as I thought of how many lies will have to be unlearned before people can begin to learn anything from one of the most decisive junctures of history…if they ever bother to learn at all.
Unlike the mini-series, history does not come to an end. We're making history every day, and we need to know where we are in the story so that we can make informed choices. That's the underlying purpose I had for writing Discover Texas, an interactive learning adventure. If you're interested in Texas history, I'd be honored if you'd take a look. I'll post the last segment of this series on Friday, but if you've enjoyed it, please consider signing up to receive the future blog posts and/or "Like" my Facebook page.
Thanks!