So August in Texas is pretty much beastly. Keeps me on my best behavior because it's sorta like a little sample of what "the hot place" will be like, y'know? 😉
Anyway, after mowing the lawn last Saturday, my husband was looking for a place to escape the heat, and we found it in Boerne at Cascade Caverns. Turns out, people have been "beating the heat" there for centuries!
Lipan Apache used the cave before white settlers entered the area. Later, in the 1800s, the cave became home to a hermit. German settlers enjoyed a book about him which was later translated into English, though it's unsure how much of the account is accurate and how much is fictionalized.
As you approach the cavern, you get a "Peep in the Deep" through the original entrance. Until fairly recently, visitors were lowered into the cavern by ropes or in buckets hung from pulleys!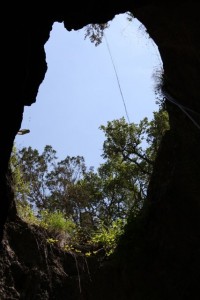 Safety concerns made it necessary to open a new access–one that allows visitors to descend by stairs…LOTS of stairs…but before you're halfway down, you can feel the delightful drafts of cool air coming up. Cascade Cavern has a year-round temperature of about 68 degrees. 🙂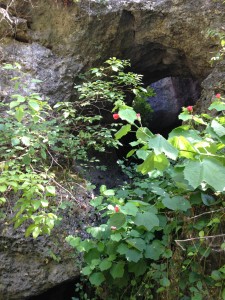 Midway down that staircase, you can see the Hermit's Ledge where the cave's 19th century occupant made his living quarters.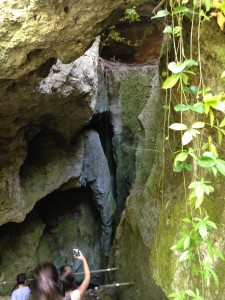 The electric lighting system in the cavern was damaged by flooding earlier this summer, but our party had plenty of flashlights for safe exploring. (Unfortunately, not so good for photos, though–too bright to give a good effect.) The Cavern website has plenty of photos, if you'd like to see what we saw.
The cavern is very wet and active. One of the most impressive and unique aspects, to me, is that you can look up and SEE the Balcones Fault Line that splits the rock overhead and hear and see water dripping through the rocks, forming soda straw stalactites and flow stone before running beside (and sometimes across) the footpath on its way to the Edwards Aquifer. In fact, there's a special tour of the lower cave that allows you to SWIM in the waters of the aquifer–the only place where you can do that, to my knowledge.
All in all, a highly entertaining Saturday afternoon adventure, and a great place to beat the Texas summer heat! 🙂