Big plans are in the works at Fort Martin Scott for Friday, Saturday, and Sunday September 11-13!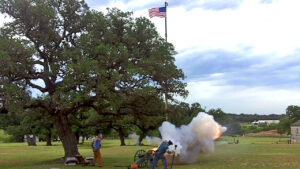 Friday, September 11th is designated as Education Day. Local schools have been invited, but you could also call about the possibility of visiting with your homeschool group.
A Friday evening concert at the new Texas Ranger Heritage Center Pavilion will feature a catered barbecue at 6 pm with music by John Arthur Martinez and Mike Blakely beginning at 7 pm. Tickets are $20. If you'd like to make reservations, call (830) 990-1192.
On Saturday and Sunday, Fort Martin Scott in Fredericksburg will come back to life! From 9 am to 4 pm, re-enactors will fill the fort once more as 1800s soldiers, civilians, and rangers busy about fort life. Admission is $3 for adults. Kids 16 and under are free. No charge for parking.
Saturday evening at 6 pm a catered meal of smoked salmon and smoked prime rib will be served at the new Texas Rangers Heritage Center Pavilion followed at 7 pm by a musical theatrical production of Guardian of the Texas Frontier featuring Pierre Minjauw as Martin Scott. Tickets are $25. For reservations call (830) 990-1192.
Finally on Sunday, September 13th, you're welcome to come out and enjoy a Chuck Wagon Breakfast and Cowboy Church, 8:30-10:30. Breakfast prices vary with selection, but all seem reasonable. 🙂