While I was at the 2015 THSC Homeschool Conference in The Woodlands, I had the pleasure of meeting Tom Glass, fellow Aggie and husband of Kathie Glass, who ran as the Libertarian candidate for Texas Governor in 2014. Mr. Glass shared some personal perspectives on "Texas Tactics" in politics which I found humorous and insightful, so with your indulgence I'll pass those along this week (paraphrased, of course).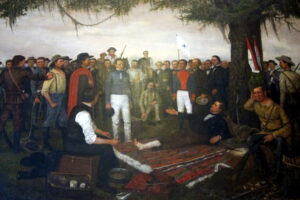 The "San Jacinto" Tactic
A noble and valiant politician is in a tight spot. He has seen how his powerful and corrupt opponent dealt ruthlessly with anyone who tried to reason, compromise, or appeal to rights and laws. Knowing that he is out-manned and out-provisioned, he waits. Some say that he is running scared in full retreat, but actually he is patiently choosing the time and ground that will work to his best advantage.
The opposition is lulled into a false sense of security, and when they least expect it the trap is sprung!
The end comes quickly. The corrupt regime is exposed and vanquished. Much is restored and much is gained in an amazingly short space of time.
If winning is important, this is a tactic we can learn from. 😉