Renae Brumbaugh is a native Texan and a former homeschool mom. She's also an award-winning humor columnist, a two-time bestselling author of seventeen books, and contributor to many more. Since I'm a "Texas history nerd," one of her recent books caught my eye: Lone Star Ranger, book one in the Texas Rangers series, published by Harlequin's Heartsong series.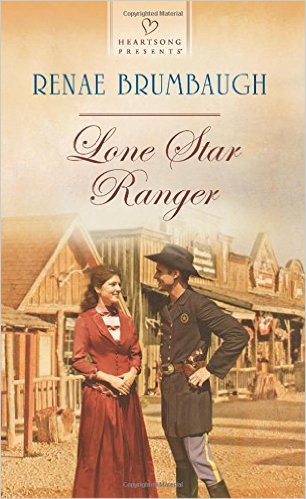 LD: Welcome, Renae! Tell us what inspired you to write the Texas Ranger series?
RB: Thanks, Lynn. Great to be here. My grandfather was a Texas Ranger, and I've always been fascinated with their history. When I was a little girl, Granddaddy would take me to his office sometimes. I'd wear his hat and play with his badge. Once he even took me in the jail when it was empty.
The hero in Lone Star Ranger, Rett, is named for my granddad, Everett Smith. And the heroine is Elizabeth, after my grandmother, Ellie. But the story is all fiction, though I did try to make it historically accurate to the 1880's.
Here's the back cover copy from the book:
ELIZABETH COVINGTON WILL GET HER MAN 
And she has one week to prove that her brother isn't the cold-blooded killer Texas Ranger Rett Smith accuses him of being. She'll show the handsome lawman he's wrong, even if it means embarking on a perilous race across Texas to catch the real culprit. 
Rett doesn't want to see an innocent man hang. But he can't let the Boston beauty take the law into her own hands. When she follows him into treacherous territory, the lawman vows to keep Elizabeth safe. But who will protect him from the woman whose courage and conviction have him questioning everything—even his heart?
LD: Sounds great! I find I learn a lot about real history when I read historically accurate fiction, and I love that it's a good, clean read. You've written other Texas historicals, too, haven't you?
RB: Yes. Lone Star Ranger has a sequel with Heartsong, titled Ranger to the Rescue. It follows some of the side characters from book 1 as they fall in love. Book 3, The Ranger's Respite, should be out sometime in 2016, though not with Heartsong. Harlequin closed that line, so book 3 will be published with Armonia Publishing.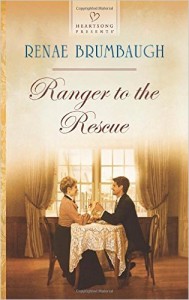 LD: You've written a middle grade historical too. Tell us about that.
RB: Chasing Dreams is one of my favorite books I've written! It's set in 1908 in the northeast United States. It follows Rebecca, a small-town girl, as she competes for a scholarship to attend the prestigious Columbia Girls' Academy. This is also book one in a series, and its sequel will also be out in 2016.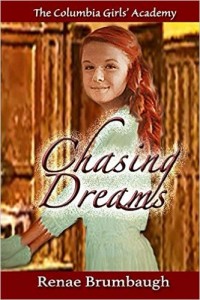 Chasing dreams . . . that's what 12-year-old Rebecca thinks she's doing when she competes for a scholarship at the prestigious Columbia Girls' Academy. But when Cinderella's wicked stepsister turns out to be her roommate, her dreams evaporate into nightmares.
LD: I see it's gotten great reviews! What inspired you to write this book?
RB: Believe it or not, I started this book nearly 20 years ago for a class writing assignment. I wrote the first couple of chapters—enough for the assignment—and set it aside. But I never forgot about it. Then when my daughter was a middle grade reader, we had a hard time finding enough books for her that were a) at her reading level b) she was interested in and c) mom-approved. She just wasn't into vampires or sci-fi, and she'd read all the Nancy Drew and similar books. She loved to read, but the list of wholesome, clean, books about normal, everyday girls was getting shorter and shorter. (She read books like I eat m&m's . . . fast and furious.)
So I pulled out Rebecca's story and started working on it again. It took me a while to finish it—my daughter is in college now! But at least it's out there for other girls. Boys can read it too; there's a lot of humor in the book. But most of the characters are girls.
LD: Hear that, homeschool writers? The assignment you write today could become a book later! 🙂
You write other genres, too. Tell us about some of your other books.
RB: I write a humor column for newspaper, and I recently released The Breaking Point, a humorous devotional-ish type book. Think, Erma Bombeck meets Elle Woods (from Legally Blonde).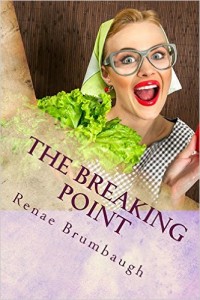 Award-winning humor writer Renae Brumbaugh, AKA The Funny Coffee Girl, isn't funny on purpose. Really, she'd prefer a much more organized, settled life. But since scattered is her spiritual gift, and since Jesus said "blessed are the forgetful," (didn't he say that?) she's decided the best way to roll through life is on roller-skates. Complete with fuzzy blue pom-poms.
Renae's side-splitting quest for wisdom and spiritual growth is nothing short of brilliant . . . or comes up short of brilliance, one or the other. Join Renae in finding hilarity in the humdrum, snickers in the stress, and joy in the journey.
More than a book of humorous stories, this inspirational humor book is a must-have for every Christian woman, and even for those who are curious about faith in Christ and Biblical wisdom. The Breaking Point will take you on a laughter-filled ride filled with "aha" moments of gentle wisdom and lightbulb clicks of understanding. And as a bonus, after reading this book, you will also know the proper way to prepare and cook asparagus.
LD: That one is getting rave reviews, too! "Hilarity in the humdrum, snickers in the stress, and joy in the journey" sounds like something a lot of our homeschool moms might relate to and enjoy.
RB: I hope so. I also have a series of easy-to-understand expository Bible studies. They're written with humor and conversational style, and make a great book study for families, or anybody, really. The first one was published by Chalice Press in 2009, and is titled Morning Coffee with James. The series was recently picked up by Armonia and will continue with a fun study of Ruth, to be released in November.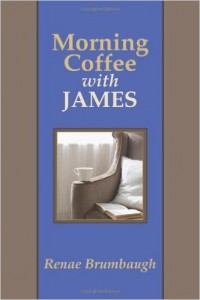 LD: That's exciting, Renae!  Something for everyone. 🙂
So now you've been introduced to a genuine Texas homeschool author! Please take a minute to browse the links and see if one of these great titles needs to be on your "To Be Read" list!