There were a number of considerations vital to Texas pioneers. Food. Shelter. Protection. After these were provided for, they turned their attention to providing for their faith.
During the Spanish colonial period and, later, under Mexican rule, pioneer families had to promise to worship in Catholic churches. Since many were not Catholic, it was no great inconvenience if there was no church nearby. But once Texas was an independent republic and the people were free to worship as they pleased, churches of all varieties were founded. Often there were not more than a handful of families involved–far too few to support a full-time pastor–so many clergymen traveled from community to community along a circuit, "marrying and burying" and preaching to each in turn. These pioneer missionaries were popularly called "circuit riders" or "saddlebag preachers."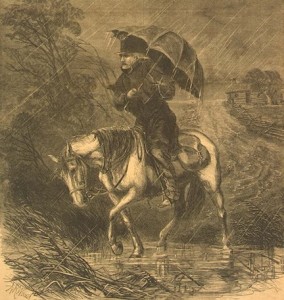 These were not "soft" men. Their territory was often wild and expansive with many dangers in their way.
One early evangelist, Z. N. "Wildcat" Morrell, spent several pages describing his journeys in a circuit that took him from Cameron to Corsicana and summed up with this:
"You now have the history of one month's work performed by a pioneer missionary. A change of horses was required every trip, and these trips were made in succession, monthly, for two years, making over seven thousand miles. My salary each year was two hundred and fifty dollars, and the last year I spent three hundred dollars to keep myself in horses."
Their work required great dedication and sacrifice, not only for themselves, but also for their families who were left for weeks at a time with no man at home. Theirs was a role nearly forgotten in revised versions of history, but their influence at the time was immense!