Big things are happening in Gonzales, Texas–the "Lexington" of the Texas Revolution! So much is happening, in fact, that it will take me most of October to tell you about "Texas: The Beginning."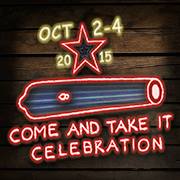 In the meantime, your family can celebrate your Texas heritage and learn more about the important role Gonzales played in the Texas Republic at the 2015 "Come and Take It" Celebration, October 2-4. A parade, concerts, battle re-enactment and much more are planned to commemorate the firing of the first shot.
This would be a great beginning-of-the-year activity to boost your students' interest in Texas history!