The Bible explains the foundation of our spiritual freedom in Jesus. The Constitution explains the foundation of our freedom as citizens of the United States. Blood was shed to secure both of these blessings for us, yet most Americans have not read either one.
Today PLEASE take time to read the Constitution. Your children need to know that it was written to LIMIT THE POWERS OF FEDERAL GOVERNMENT. Many think it was written to grant rights to citizens, but our founders considered every man's rights to be God-given–not assigned by any government. Pay special attention to the Bill of Rights and the Amendments.
To explain why this is such a passion for me, you need to know that my college major was in architecture and that in my hometown there was an interesting lawsuit that arose when a newly built home split in two. The builder had laid supports for the foundation, but heavy rains swept away some of the markers and obscured the footings. After a time had passed, the workers poured the slab where they "thought" the supports were…but they were confused, mistaken. It didn't matter that they were only off "just a little bit." Without firm support, the soil shifted beneath the house and within a very short time it split in two and had to be torn down. It is the same with our nation. Over the course of  over 200 years, the storms of ignorance and public opinion have obscured the boundaries of our support system. If our government is not built faithfully upon the supporting foundation of Constitutional laws, our society will be divided and our culture will fall.
Our Texas Constitution was patterned after the United States Constitution, as was the constitution of Mexico.
Texians went to war with Mexico when President Santa Anna declared himself a dictator and disregarded the Constitution of 1824.
Texans seceded from the Union in 1860 when a majority felt that the leaders of the United States government had exceeded Constitutional limitations and were infringing on the Constitutional rights of citizens.
Even if the United States Constitution is not directly "Texas history", it is undeniably intertwined with our history and with our modern lives. One really fun way to learn it is by playing The Constitution Quest Game with your children. I heartily recommend it!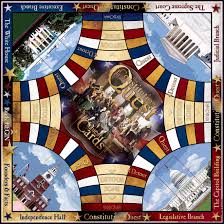 We must know, we must understand, and we must remember.