A large number of Germans immigrated to Texas in the 1840s and found the farmlands of Central Texas and the Hill Country much to their liking.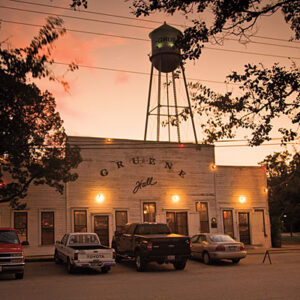 Ernst and Antoinette Gruene made their way to the newly established community of New Braunfels in 1845 but, finding that most of the choice land was already taken, they and their two sons settled a short way downriver where Ernst built a home in the fachwerk style that was familiar to him. The land was excellent for growing cotton, and soon 20-30 families joined the Gruenes. Gruene built more homes, a mercantile, a cotton gin, and a dance hall which remains the center of social life for the community.
The town prospered for over half a century, but hard times hit when Ernst Gruene's son and heir, Henry, died in 1920. The cotton gin burned in 1922, and the invasion of Mexican boll weevils and the Great Depression delivered economic blows from which Gruene's businesses could not recover. Only Gruene Hall–Texas' oldest dance hall–remained open.
The community got a new start, though, when someone purchased the Gruene estate in 1974. New businesses opened. Musicians like George Strait, Hal Ketchum, and Lyle Lovett got their starts playing at the dance hall. A fine restaurant, The Gristmill, overlooking the Guadalupe River opened up in the old cotton gin. And the town of Gruene was placed on the National Register of Historic Places. Today, Gruene is once again a thriving community and well worth a visit!