When the city of San Antonio celebrated its 250th birthday in 1968, HemisFair 68–a World's Fair, or International Exposition–welcomed 6.4 million visitors to the Texas-sized birthday party that lasted six months celebrating the "Confluence of Civilizations in the Americas".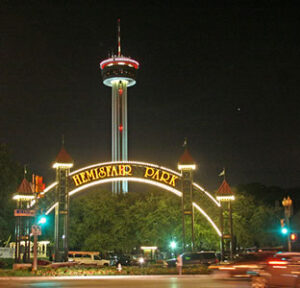 Here is an excerpt from the Official Guide Book:
"HemisFair 68 captures the sights and sounds of the old world and the new in a gem-like landscape of wonder, fantasy and entertainment. It is the only world's Fair to be held in 1968 and the first set in the U.S. Southwest. In a sense, HemisFair 68 is a birthday celebration for San Antonio–a six-month fiesta in honor of the city's 250th year. But it is more than just a birthday party. It is vivid recognition of the growth potential of a particular region and its people.
Appropriately, HemisFair takes full advantage of its San Antonio setting. That prismatic city is one of the most picturesque in the United States today. Its people speak for every pioneering group that ever ventured into the Southwest. Bilingual and cosmopolitan, San Antonio lays claim to a lustrous heritage spun from the colorful threads of many cultures. On that foundation, HemisFair 68, in the truest sense, is the outcome of visionary, 20th Century pioneering."
Much of downtown San Antonio that so many tourists love today–the Tower of the Americas, La Villita (the original) revitalization , the convention center, the Riverwalk extension, and the Institute of Texan Cultures–was developed as part of the 1968 HemisFair World's Fair.