You likely have not heard of Z. N. "Wildcat" Morrell, but he was a colorful and surprisingly influential figure in Texas history. Born January 17, 1803 in South Carolina, his family moved to Tennessee when he was 13. He received no formal education, married Clearacy Hayes at 18, and soon after "felt the call" to become a Baptist minister. Because he suffered frequently from lung hemorrhages, doctors advised him to move south, so in 1835 he relocated his family to Mississippi. They were there less than a year, but in that time Morrell founded three churches.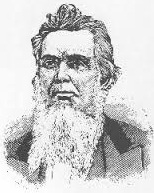 In December 1835, Morrell made an exploratory trip to Texas. With Texas still under Mexican rule, Anglo settlers were given permission to colonize only if they promised to become Catholic, but that was a rule frequently ignored. Morrell may have had plans to bring the Baptist faith to Protestant settlers, but by the time he returned with his wife and four children in April 1836, Sam Houston's Texians had won at San Jacinto. The revolution was over, and Texas was a free republic with freedom of religion as well.
Morrell first settled his family near Falls of the Brazos, but the danger of Indian raids forced them to move to Washington-on-the-Brazos. Here Morrell helped to form one of the first Baptist churches in Texas in 1837. Preaching was not often a full-time profession in those days. Morrell dabbled in politics and worked as a schoolteacher, merchant, and land speculator to provide for his family.
While surveying land near Corpus Christi in 1838, Morrell had an experience that he often spoke of afterward. He and a companion came across a feral cow and had prepared their guns in hopes of beef for supper when Morrell spotted movement–a horse and, just ahead, a young Indian boy crawling through high weeds, bow and arrow poised, ready to bring down the same cow. His companion turned his weapon to fire at the Indian, but Morrell stopped him. He had recently encountered two large rattlesnakes in a stand of brush, but rather than striking, the snakes had sounded their rattles in warning. Morrell was impressed that the snakes fought only in self-defense. He quickly explained to his friend that the Indian boy was doing them no harm. There was no need to fire in self-defense, so they left the beef to the young Indian hunter. They might go hungry, but their consciences were clear. As they returned to their companions, though, a band of Karankawa Indians came upon them suddenly. Knowing that Karankawa warriors were cruel cannibals, the men reached for their guns, but the Karankawa leader gave a sign for peace. The young Indian hunter was the chief's own son, and the father had witnessed the mercy Morrell and his companion showed. The surveying company made a peace treaty with the Karankawa that day and received official praise from President Sam Houston.
In his professional life, Morrell was never very successful and often had to rely on the generosity of those who believed in his ministry. His personal life was marked with trials as well. Clearacy died in 1843. He married a widow, Delia Harlan, in 1845, but that marriage ended in divorce fifteen years later because of his wife's distress over his incessant traveling. In his ministry, though, he had few equals in Texas history. Nothing stopped him.
He helped found the Union Baptist Association in 1840 and founded a church in Gonzales in the early 1840s, preaching in a schoolhouse four miles from the settlement as well as at his little church in town. One evening during services the congregation heard "a shrill Indian whistle" and shots fired. The next morning they found the scalped body of a "non-believer" near the church, and after that some of the men stood guard during worship services while others listened to the sermon with guns across their laps. In 1846 the Domestic Mission Board of the Southern Baptist Convention appointed Morrell as a circuit-riding preacher. His routine monthly journeys from Cameron to Corsicana, 300 miles covered on horseback in all weather, further strained his health, but that did not stop Morrell from his rounds.  In 1847 he helped raise funds for Baylor University and also founded the Colorado Association and the Trinity River Association the next year. In 1849 he founded Little River Baptist Church in Milam County. In 1852 he founded a church in Marlin. He founded the Leon River Association in 1858 and the Waco Baptist Association in 1860, plowing new territory and planting congregations and helping others to do the same.
In late 1867 he struck out to being mission work in Honduras, but continuing health problems forced him to return to Texas in 1869. Sixty-six years old and in failing health, Morrell turned to writing, frequently contributing to the Texas Baptist Herald and publishing Flowers and Fruits from the Wilderness in 1872. Largely autobiographical, this work gives a fascinating first-hand account of the Texas frontier as well as early Baptist history.
Morrell spent his last years in Kyle, Texas, a guest of his friend R. J. Sledge. When he died on December 19, 1883 he was nearly 81 years old and had been a minister for over half a century. Z. N. Morrell was buried in the churchyard of the First Baptist Church of Kyle. In 1946 his body was moved to the State Cemetery in Austin.
If you'd like to read more about him, I found an expanded biography of Z. N. Morrell at God and Texas (home of Texian Christian Writers).