Green DeWitt received permission from the Mexican government to establish a colony of 400 families in Texas in 1825, making him an empresario, but it was seven years later before the selected town site of Gonzales was surveyed.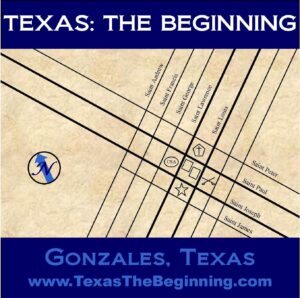 The city plan, laid out and approved in Mexico City, was typical of colonial Mexican towns. Main avenues, named in honor of Catholic saints, were arranged in the form of a cross.  This created a main square for government buildings and an "inner town" of forty-nine square blocks including seven public squares.
Why so many? Well, one for churches, one for a cemetery, one for military buildings, one for market days, and another for public gatherings. Indeed the original city charter reserved all the land between the main avenues for public use–a restriction that is honored to this day.