Green DeWitt, empresario (or land agent) of the DeWitt colony, was born in Lincoln County, Kentucky on February 12, 1787, to Walter and Sarah DeWitt. His father moved the family to a land grand in Missouri territory around 1803. DeWitt grew up in the Spanish-held territory. He went back to Kentucky at 18 for two years to complete his education, then returned to Missouri where he married Sarah Seely of St. Louis in 1808. As a young man, DeWitt served in the Missouri state militia during the War of 1812, then served as sheriff of Ralls County.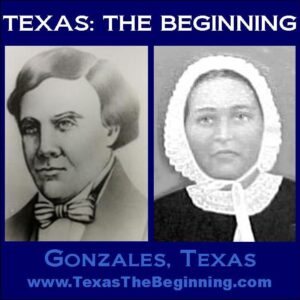 At the age of 34, inspired by Moses Austin's colonial grant from the Spanish government, DeWitt began to petition for his own land contract. When his request was denied, DeWitt visited Texas and met with Austin, then traveled to Saltillo, Mexico (the capital of Coahuila y Tejas) to address his petition to the Mexican state. Supported by the influence of Austin and the Baron de Bastrop, DeWitt finally succeeded in gaining authorization in April of 1825 to settle 400 Anglo-Americans along the Guadalupe River, practically "next door" to Stephen F. Austin's colony at San Felipe. James Kerr began to survey the land, and before year's end DeWitt return to Missouri to promote his colony and enlist settlers. He returned in the spring of 1826 with his wife, two sons, and three of their four daughters. Three Missouri families came with them to join others already in the colony.
For ten years DeWitt invested all that he had into developing the colony, but despite his energetic advertising and enthusiastic praise, the colony was neither a material nor a financial success for him. DeWitt was never elected to hold office in the colony he founded. For a variety of reasons the colony was never prosperous. Money was so scarce that many families bartered pelts for what they needed. DeWitt issued land scrips in five, ten, and twenty dollar denominations for his colonists to buy their lands. The handwritten currency was transferable, so many colonists began to use it in exchange for other goods. Thus Green DeWitt's scrips became a form of money, one of the earliest examples of Texas paper currency. Because he was not able to fulfill his contract of 400 families by the deadline of April 15, 1831, DeWitt had his wife establish a land claim in her maiden name as a fall-back plan to protect the family's fortunes. The Mexican government granted her request, making her one of the first women to secure a land grant, but they did not renew DeWitt's contract to remain empresario.
Desperate to improve his fortune, DeWitt traveled to Monclova in 1835 where he hoped to buy random 11-league grants from the governor. DeWitt knew of eighty families who wanted to buy premium land to settle in Texas. The governor wanted to sell the land to raise money for defense. Unfortunately, DeWitte was not able to acquire any land. While in Monclova, he contracted cholera. He died on May 18 and was buried in an unmarked grave.
Some might summarize Green DeWitt as "a man who started out well and ended up with little to show for it." He risked everything on adventure and lost it all. Friends took up a collection in Monclova to pay for his coffin. Was he a failure? To be fair, we'd have to say much the same of Stephen F. Austin. For that matter, the same could be said of most of the heroes of the Alamo–men we revere today. They did not succeed in the ways they might have imagined, but they certainly did not fail. With the hindsight of history, we can see that they succeeded far beyond their original intentions. Their lives were not marked by the acquisition of profits and prestige, but no one can deny that they left a remarkable legacy. Green DeWitt set out to start a colony and instead played a part in the birth of a nation!