How to Make Learning Meaningful, Memorable and Fun, Book 2 in the Homeschool Parents' How-To Series, is now available in paperback!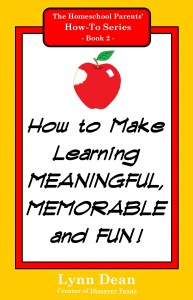 Packed with encouragements and ideas, there's plenty of space in the paperback version to record your own insights and plans to take your family's homeschool experience to the next level.
Kindle version is available on Amazon. It will take about a week for the paperback to populate to Amazon, but you can order it here right now!