Sarah DeWitt, wife of empresario Green DeWitt, was born in Brooks County, Virginia on June 27, 1787 (-1789), the daughter of Jonas Seely. She married Green DeWitt, who would become a Texas empresario, on December 15, 1808 in St. Louis County, Missouri. We don't know much about her life between her birth and marriage, but her life after marriage was filled with adventure.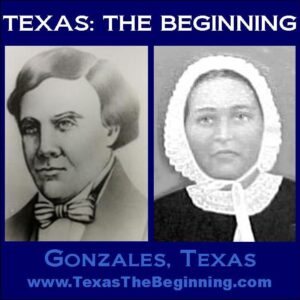 We know that Sarah managed her growing family alone for two years while Green served in the War of 1812 and again for months on end as he traveled to Texas to secure permission to begin his colony. Then in the Spring of 1826 she helped load up everything the family owned and climbed into a wagon with four of her children–Naomi, Eveline, Christopher Columbus, and Clinton–to travel hundreds of miles to the Texas frontier where she would live miles from family and friends and where Indian raids were a frequent threat. Her heart must have been heavy as she left their oldest daughter, Eliza, in Missouri to finish school, and she may have been pregnant during the long journey. Daughter Minerva was born in Texas.
The family invested everything they had in Green's dream of a colony. "Everything" included all of the considerable property Sarah brought into their marriage. As an empresario, he had his choice of land, but as fellow empresario Stephen F. Austin wrote, land could not be eaten or could not be made into clothes. Though DeWitt's lands in Gonzales would become a valuable legacy to his descendants, the purchase of them nearly impoverished him. Imagine the position Sarah found herself in as she managed a garden where rain was scarce, provided food, clothing, and schooling for five growing children, and attempted to encourage her husband even as his dreams seemed to evaporate in the Texas summer heat.
Despite his enthusiasm, Green was not able to attract the 400 colonists required to make good on his contract with Mexico. Afraid that he would lose his title and their investment, he urged Sarah to petition the Mexican government for a title to land using her maiden name. This is what she wrote:
"I, Sarah Seely, wife of Green DeWitt, with a family of six children, with all due respect and in the best form of law, present the following statement: In the year 1826 I arrived in this country with my above mentioned family from the state of Missouri, one of the United States of the North. Since the year, 1826, until now I have dwelt on a sitio of land, chosen by my husband on the right bank of the Guadalupe River, opposite the town of Gonzales. My husband, before mentioned, has made improvements such as houses and out buildings for the family and has opened a rather large farm. The family has suffered much in consequence of being in an unpopulated country on the frontier, through exposure to the incursions of the savage Indians, and for want of supplies. For these reasons and also because my husband, the said Green DeWitt, finds himself much embarrassed in his affairs on account of the enterprise that he has undertaken, and because of other circumstances which have placed the family in an unfortunate situation, I, the petitioner, with a view to acquiring and preserving a secure estate for the maintenance of myself and children, humbly beg your excellency to have the kindness to concede to me and my children in fee simple for myself and my heirs the sitio of land above mentioned on which I now live, with the understanding that all the requirements of the law in the matter will be fulfilled. Therefore I ask and beg you be so kind as to favor me by doing as above stated."
Her request was granted, making her one of the first women to own land in Texas. The Sarah Seely league is just south of Gonzales in the bow formed by the Guadalupe River where it meets the San Marcos River.
One of Green and Sarah's descendants, Edna DeWitt, writes in her compilation Lest We Forget:
"….early settlers here always took pride in sharing the hospitality of their home.  Mrs. Sarah Seely DeWitt made an ideal mate for her empresario husband, Green DeWitt.  Her home was noted far and wide for its welcome to the wayfarer and guest, nevertheless Mrs. DeWitt found time to take an active part in religious work of the colony, and helped design amd make the first two Texas flags carried by soldiers in the battle for Texas independence.  There was one thing, however, that Mrs. DeWitt refused to do–and that was to prepare a hot meal for guests in her home on the Sabbath.  It was against her religious scruples.  If the visitor would dine of an abundant meal–minus the heat–he was welcome.  If not he must eat his Sunday dinner elsewhere."
Green DeWitt died in 1835, some months before 100 Mexican dragoons descended upon the settlement of Gonzales to confiscate the cannon they depended on for defense against Indian raids. When a militia of 18 volunteers went out to meet the army, they carried a flag of Sarah's design that she and daughter Naomi had made of cloth from Naomi's wedding dress. This flag was one of the first to represent Texas as a "Lone Star". It was the first of two revolutionary banners Sarah designed.
Sarah Seely DeWitt died on November 24, 1854 in Gonzales and is buried with a number of her descendants in the DeWitt Cemetery near Gonzales.