This series of posts celebrates Texas: The Beginning, a new resource for lovers of Texas history.
Perhaps you have seen the "Come and Take It" flag making the news recently. Many Americans see it as a symbol of the stand for freedom, especially the right to keep and bear arms guaranteed in the 2nd Amendment of the United States Constitution. But do you know the history of the flag?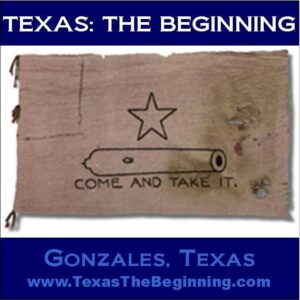 The founder of Gonzales, Green DeWitt, died five months before 100 Mexican dragoons came to demand the return of the town's defensive cannon. His widow, Sarah, and daughter, Naomi DeWitt Matthews, tore apart Naomi's wedding gown to make the "Come and Take It" flag while "the Old Eighteen" held them off.
The motto "Come and Take It" can be traced back to the American Revolution when British soldiers attempted to capture Fort Morris in Sunbury, Georgia. Though the Continental soldiers were greatly outnumbered when the British commander demanded the fort's surrender, American Colonel John McIntosh sent him a defiant response: "Come and take it!"  Since Sarah was born just nine years after the incident at Fort Morris, she may have heard the story firsthand and been influenced in her design of the Gonzales flag.
Though they were pioneers and frontiersmen, our forefathers were often well-read. It is quite possible that many were familiar with the classic response of King Leonidas I of Sparta when the Persian army demanded that they surrender their weapons at the Battle of Thermopylae. The Spartans' defiant response, "Molon labe" ("Come and take them"), may have inspired the defiance of patriots in both the American and Texas Revolutions.
The "Come and Take It" flag was one of the first to represent Texas with a Lone Star.