Unlike several of the other Texas empresarios, Ben Milam did not come from a family with wealth or connections and probably had very little formal education. He enlisted in the Kentucky militia when he was about 24 and fought in the War of 1812. After the war, he returned home, but by the time he was 30 he was in Texas trading with the Comanche Indians along the Colorado River. It was there that he met David Burnet, and the two became friends.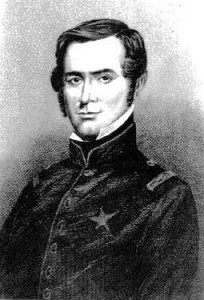 On a trip to New Orleans in 1819, Milam met James Long, who was planning an expedition to  help revolutionaries in Mexico and Texas win independence from Spain. Their exploits were a comedy of errors that ended tragically for Long and landed Milam in a Mexican jail, but Milam was eventually released. He returned to an independent Mexico in 1824 and became a colonel in the Mexican army. Around 1825, he obtained an empresario grant in Texas but did not act on it right away due to other business interests. When Mexico passed a law prohibiting immigration to Texas by United States citizens in April 1830, Milam was not able to meet his quota of families to settle his grant before it expired in 1832.
Milam was in Monclova, the capital of Coahuila y Tejas, doing business with Governor Viesca in 1835 when Santa Anna seized control of the Mexican government and led his army toward Texas. Viesca and Milam fled together, but were captured and sent to prison in Monterrey. Milam escaped and reached the Texas border in October 1835. There he heard rumors of a Texas revolution from soldiers he encountered. He marched with them to capture Goliad, then they merged with the larger army marching toward San Antonio.
By this time it was December. Cold weather had set in, and many in the army felt it would be foolish to attack San Antonio during the winter. Instead, they planned to go into winter quarters, but Milam believed the move for independence depended on continuing a plan of attack. He plead, "Who will go with old Ben Milam into San Antonio?" and 300 men volunteered to join him. They attacked at dawn the next day–December 5. Four days later, General Martin Perfecto de Cos, surrendered the city.
Milam did not live to see the victory. Two days earlier he was shot by a sniper and died instantly.
So Ben Milam was an empresario in name only. He never actually brought anyone to his colony, but he led 300 men to take San Antonio for freedom, and for that he is remembered.