David Gouverneur Burnet was born April 14, 1788 to parents of status. His father served in the Continental Congress and as surgeon general, and his mother was the widow of a man whose brother founded Rutgers University. Burnet was among the youngest of at least 15 brothers and sisters, many of whom also became people of prominence, but his life was a string of disappointments despite his many achievements.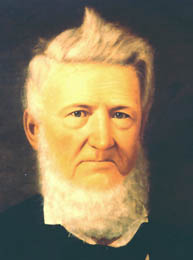 His parents died when David was a child, and his older half-brothers in Ohio took him in to raise him. He worked hard to follow in their footsteps. He had a classical education. He wanted to join the navy, but his brothers thought it better to apprentice him as a clerk in a New York commission house when he was 17–a position he quite disliked. Nevertheless, when the firm fell into financial difficulty, Burnet gave his entire personal inheritance–$1300–in an attempt to save it. It was too little and too late. The firm went bankrupt, and David lost all of his money. This did give him his chance to sail. The following year he volunteered to serve with Francisco de Miranda as he fought for the independence of Venezuela from Spain, but the filibustering expedition was unsuccessful. Lieutenant Burnet returned New York by the end of the year, then returned to Ohio to study law.
In 1817, Burnet moved to Natchitoches, Louisiana to open a mercantile business, but after a few months he developed a bloody cough–tuberculosis. His doctor suggested that a dry climate would help, so David set out for Texas. Weakened and traveling alone, he fell from his horse and was discovered by Comanche Indians who took him in a nursed him to health. He lived with them for two years. During this time he met Ben Milam, another future empresario and Texas hero, who was trading with tribesmen along the Colorado River.
When he was healthy again, Burnet returned to Cincinnati to practice law, but when he heard of Stephen F. Austin's colony, he returned to San Felipe in 1826. There he provided legal advice to the settlers and organized the first Presbyterian Sunday School program in Texas. He teamed up with Ben Milam in a mining venture, but that business failed, so he traveled with Lorenzo de Zavala and others to apply for land grants as empresarios.
His request was granted. He received authorization to settle 300 families in East Texas on the old Haden Edwards grant near Nacogdoches. Under the terms of his grant, a married settler could buy a league of land–4428 acres–for $200. Burnet headed back to Ohio to recruit pioneers, but he was unable to convince enough families to come. In 1828 he sold his land to the Galveston Bay and Texas Land Company for $12,000–a tidy sum.
He stayed two more years in the United States–long enough to marry–but then he felt eager to return to Texas. He and his bride bought a steam engine and chartered a ship to bring it and them to Texas to open a saw mill. Their future looked bright, but disappointment struck again. A storm ran their ship aground along Bolivar Point. To lighten their load, they were forced to throw all of his bride's furniture overboard along with her hope chest. Only the steam engine was saved, but at least they had the promise of a needed business. Burnet established his saw mill on a 17 acre grant along the San Jacinto River. Mexican law even entitled Burnet to an extra grant because his mill provided a public service, but the law also required him to convert to Catholicism to receive the extra grant. A devout Presbyterian, Burnet refused with passion, which so angered the Mexican authorities that they cancelled his grant to operate the mill at all. Burnet sold the precious engine and saw mill at a loss.
The Burnets remained in Texas, though, and six years later when he heard of Travis's plea for help at the Alamo, Burnet rode to Washington-on-the-Brazos to recruit assistance from the Convention meeting there. He stayed on and was elected interim President of Texas on March 17, 1836. It was Burnet who ordered the government to retreat to Harrisburg, setting off the Runaway Scrape. Burnet and his family narrowly escaped capture by taking ship from New Washington to Galveston Island just before General Juan Almonte's troops took the town. After the Texas victory at San Jacinto, General Santa Anna was sent to Burnet, who negotiated the Treaties of Velasco. Because Burnet declined to execute Santa Anna, many Texans called for him to be arrested for treason. Burnet resigned as interim president and did not run for election. He did, however, serve as vice president under Mirabeau B. Lamar, and when Texas was annexed as a state, Burnet served as the first Secretary of State.
Though he, like many others, was an empresario in name only, David Burnet is remembered as a Texas hero and Burnet County is named for him.