Born in 1765 in Nuevo Santander (now the Mexican state of Tamaulipas), Martín De León was the only Mexican-born empresario to found a colony in Texas, and his was the only colony whose people were predominately Mexican and who preferred the Mexican customs and language. The De León colony was the model the Mexican government originally had in mind and the model they came to understand they must establish if Texas was to remain loyal to Mexico.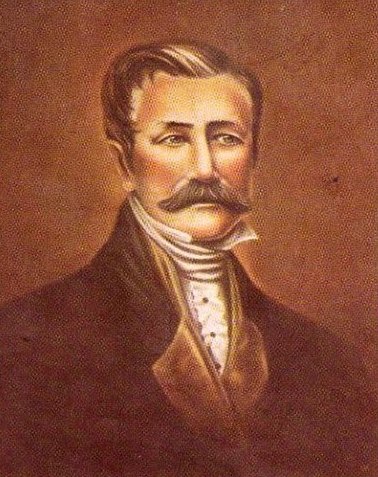 De León's family were wealthy, well-educated, and aristocratic, acquainted with many European rulers, but Martín chose to make his own way as a merchant and military officer. He married a general's daughter, and the couple settled on a ranch in Nuevo Santander. After a trip to La Bahía, San Antonio, and Nacogdoches in 1805, De León decided to settle in Texas. He bought land between Chiltipin Creek and the Aransas River, brought cattle, horses, mules, and goats from Mexico, and enclosed several leagues of land with a brush fence in hopes of corralling and domesticating wild mustang horses in the area. From this ranch he drove his herds to market in New Orleans, becoming one of Texas' first traildrivers.
In 1807 and again in 1809, Martín De León asked the Spanish governor if he could establish a colony near his ranch, but permission was denied. Many in Mexico were discontent with Spanish rule, and the De Leóns were rumored to be among those hoping for revolution.
De León established a new ranch along the Nueces River near the present site of San Patricio, enclosing a pasture as he did before, but after the September 1810 revolt under Father Miguel Hidalgo, many Spanish frontier forts in Texas were closed. Frontier families were vulnerable to Indian attack, so De León moved his family to San Antonio where they would be safe while he joined the Mexican resistance. He did not return to ranching until 1816, but by this time his herd had multiplied, making him a wealthy man. He often placated Indian raiding parties by giving them beef, and the Indians called him "Capitán Vacas Muchas" ("Captain Plenty of Cows").
As he drove his cattle to market in New Orleans in 1823, he greatly admired the tall grassland of the coastal plains along the lower Guadalupe River and thought what an ideal spot that would be if he ever gained permission to establish a colony. In 1824, he got his chance. Mexico had finally won their independence from Spain. Martín De León requested permission for a third time, and this time was commissioned to settle 41 Mexican families on the land he had so admired. His wife contributed her inheritance, as well, to found the town of Nuestra Señora Guadalupe de Jesús Victoria–Our Lady of the Guadalupe of Jesus' Victory. Unlike other empresarios, De León's contract did not specify the number of families he must settle on the land, nor did it set a time limit. It did not even establish clear boundaries, which later caused some issues with the neighboring colony of Green DeWitt. By October, De León and twelve other families had established themselves. Twenty-nine other Mexican families had promised to follow soon after, but drought that year and excessive rains the next prevented them. In their place, De León welcomed sixteen Anglo-American families. De León's five-league (22,140-acre) ranch along Garcitas Creek may have been the same site LaSalle selected for his ill-fated Fort St. Louis.
Sadly, Martín De León died during the cholera epidemic of 1833, leaving a widow, four sons, six daughters, and an estate worth over a half million dollars (over $14 million in today's dollars). His sons and sons-in-law became prominent citizens in Goliad and at La Bahía. His sons-in-law fought against Santa Anna, and his sons contributed horses, mules, cattle, provisions, and military equipment to the Texas army as well as offering refuge to displaced colonists. Though two of his sons were placed under arrest by the Mexican army, the family were victims of prejudice after the war as were many Texans of Mexican descent when hard feelings led to a general distrust. The family who had offered refuge to so many others was forced to flee to Louisiana for their own safety. After a time, Patricia De León returned to her childhood home in Nuevo Santander. It was six years before the family was finally able to return to Texas in an attempt to recover their property, but they were never able to recover their great loss.